2020
Switzerland: Two for all, all for two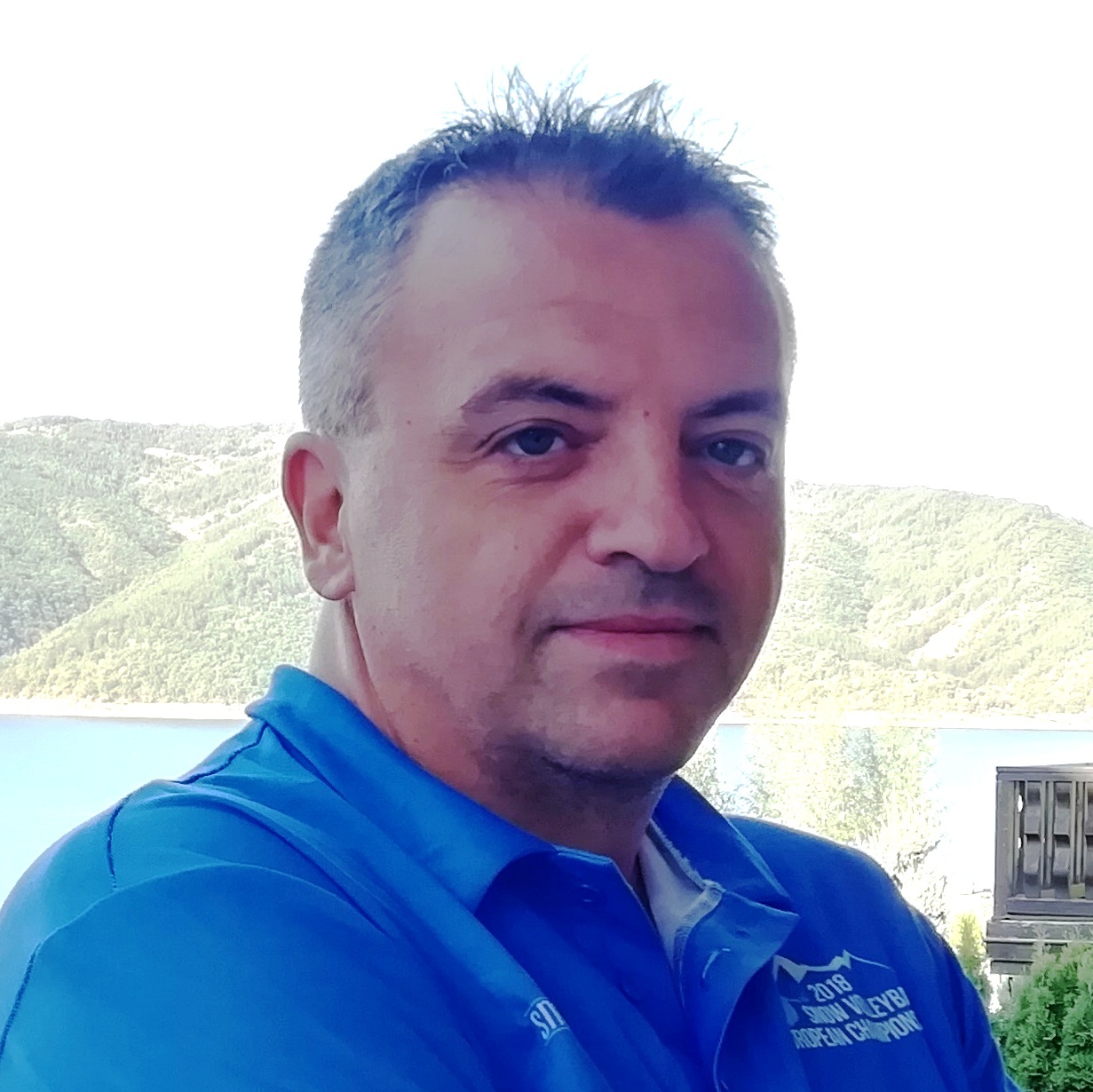 Did you know that the famous musketeer motto, "one for all, all for one," is also the unofficial motto of Switzerland? Well, maybe after their men's national beach volleyball team won the CEV Continental Cup last week, it can be interpreted as "two for all, all for two," as five different players contributed to their campaign, which started over two years ago, back in 2019, and ended just two days ago with a Daruma doll and an Olympic ticket for only two of them.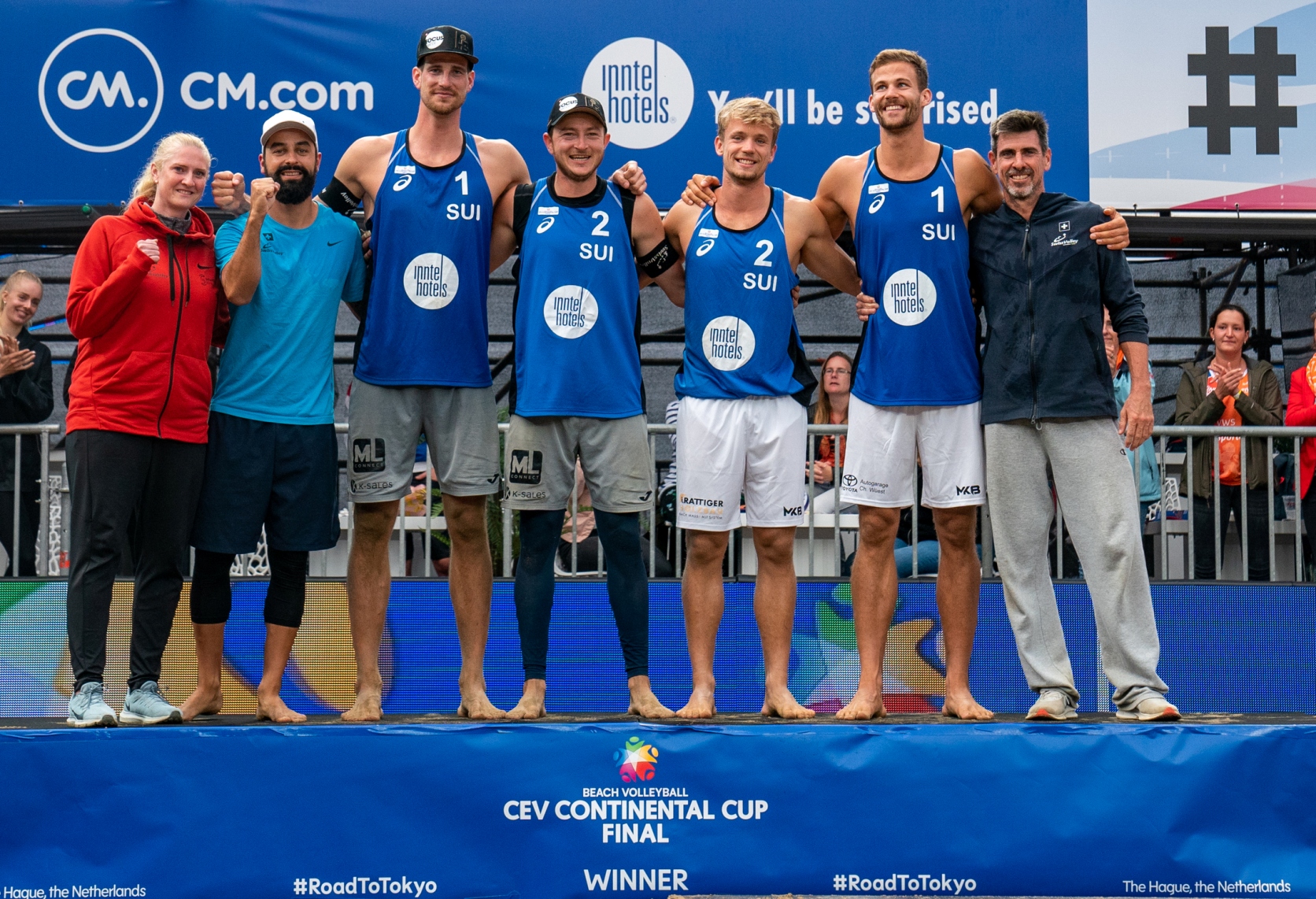 The staff and players of the men's national team of Switzerland on top of the Continental Cup podium
It may sound a bit unfair, but that's the essence of a collective sport, which every kind of volleyball is. That's the essence of the unique format of the Continental Cup, which truly puts beach volleyball where it belongs, among the team sports, where an athlete competes not for himself, but for his team, for his country...
In the first phase of the Continental Cup, the two Swiss pairs, Adrian Heidrich & Mirco Gerson and Nico Beeler & Marco Krattiger, did not lose a single set as they defeated both their opponents, Armenia and England, by two victories to none, at a three-way event in London. Back then, no one had any idea who would make the trip to Tokyo if the country won the Cup. That was way far into the future, and no one actually knew how far it actually was...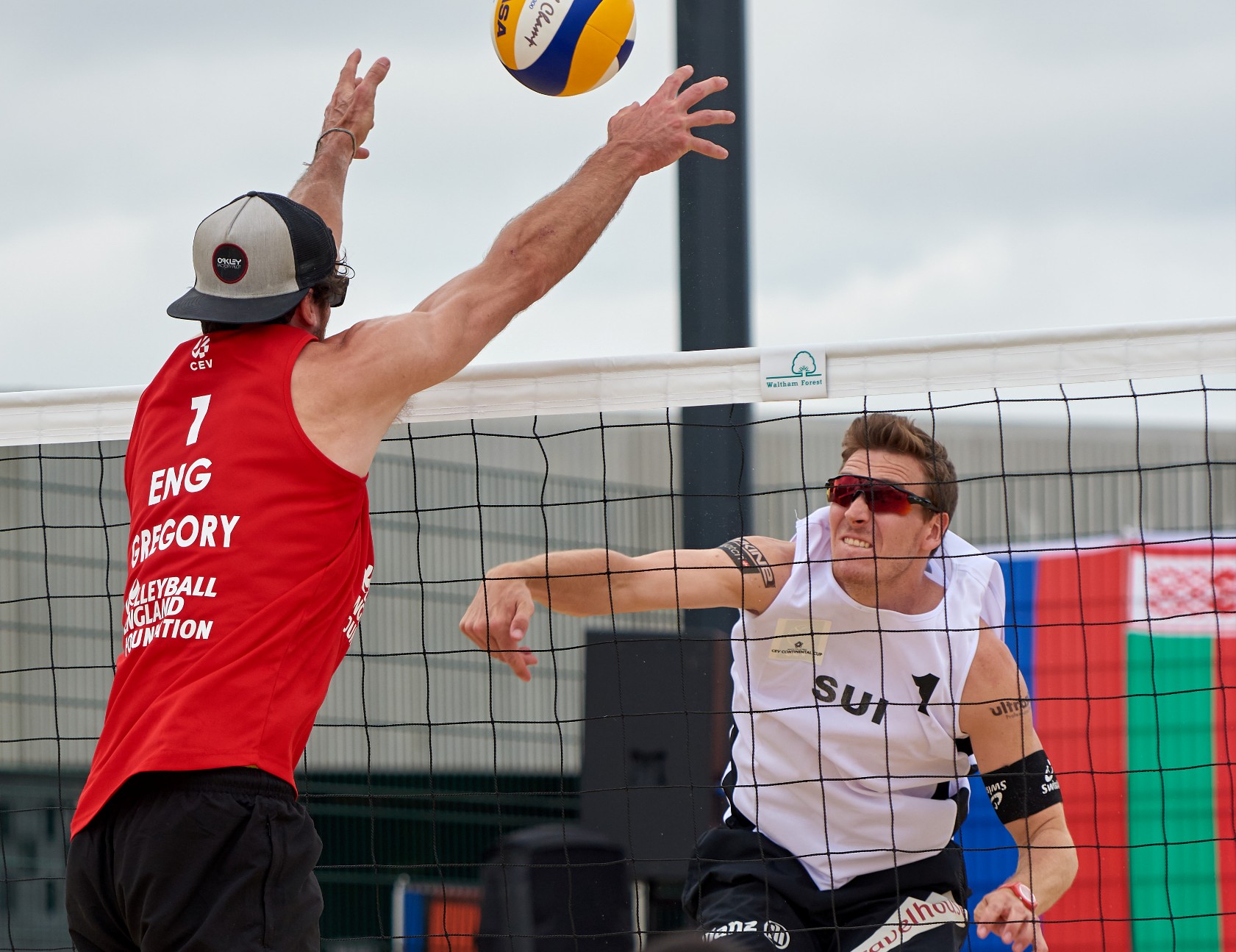 Nico Beeler spikes against England in the first phase of the Continental Cup
With the coronavirus pandemic taking its toll, the second phase got pushed to two years later, in early May of 2021, when Switzerland travelled to neighbouring Austria and emerged on top of an eight-team tournament in Baden.
With one change in the roster, Florian Breer instead of Nico Beeler, the Swiss did not drop any sets in their first tie against Serbia, but in the Pool B winners tie, they lost both rubbers to Poland to finish pool runners-up. In their quarterfinal encounter with France, both Heidrich & Gerson and Krattiger & Breer claimed emphatic straight-set wins over their opponents.
They did not lose any sets in the semifinal against hosts Austria, a team they would meet again at the Continental Cup Final. Krattiger & Breer were awarded a forfeit victory over Martin Ermacora & Moritz Pristauz, because of an injury. Heidrich & Gerson shut out Robin Seidl & Philipp Waller.
And it was Poland again in the tournament final. Heidrich & Gerson put Switzerland in the lead with a convincing straight-setter over Maciej Rudol & Mikolaj Miszczuk. Krattiger & Breer, however, lost a very tight three-setter to Piotr Kantor & Bartosz Losiak, 1-2 (20-22, 21-19, 11-15). In the deciding golden match, Heidrich & Gerson produced a 2-0 (21-14, 21-13) blowout of Kantor & Losiak and Switzerland triumphed as tournament winners.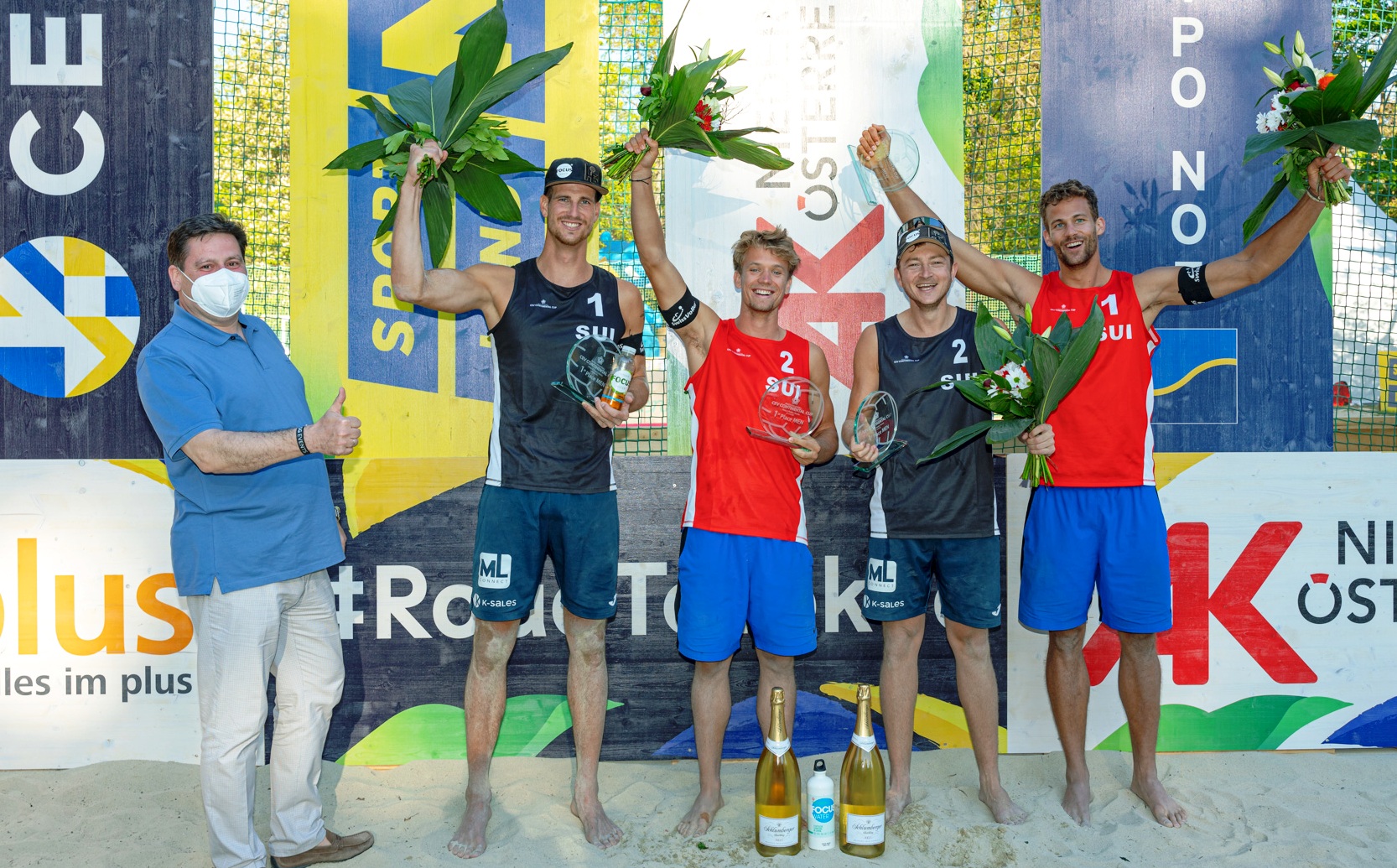 Team Switzerland win the Baden Continental Cup tournament
As last week's third and conclusive phase of the competition, the Continental Cup Final in the Hague, approached, it became clear that it would be Switzerland's only shot at sending a men's team to Tokyo as none of their duos managed to qualify through the ranking. Heidrich & Gerson were in the race through the very last qualifying four-star World Tour event in Ostrava, but finished just three positions and 260 points below the cut-off in the Olympic ranking.
At Scheveningen Beach on the Dutch North Sea coast, the Swiss once again started with a straightforward victory (two times 2-0) over Serbia to advance to the quarterfinals.
And there was Austria again. This time, Krattiger & Breer started that tie with a hard-fought shutout of Seidl & Waller, 2-0 (23-21, 23-21), but the highest ranked Austrian pair, Ermacora & Pristauz, were now in their full health to get past Heidrich & Gerson in a straight-set second rubber. For the golden match, the Swiss gave the Austrians, and everybody else for that matter, an incredible surprise, a combo pair of Krattiger & Gerson, two athletes who had never played in a tandem before. They fought back from a set down to defeat Ermacora & Pristauz by 2-1 (21-23, 21-16, 15-7) and push Switzerland into the semis.
Their semifinal tie against the strong team of Germany was a one-sided affair. The Swiss dominated both rubbers and emphatically progressed to the grand finale against hosts Netherlands. Heidrich & Gerson shut out Yorick de Groot & Stefan Boermans in the opening rubber, but Christiaan Varenhorst & Ruben Penninga drew level with a straight-set win over Krattiger & Breer. Heidrich & Gerson came out for Switzerland in the golden match against Varenhorst & Penninga and battled their way to a 2-1 (21-16, 15-21, 15-12) victory and a spot at the Olympics.
But which of these two deserving pairs will get to go to Tokyo? Swiss Volley and Swiss Olympic will officially announce their decision on July 1. Adrian Heidrich & Mirco Gerson are the most likely choice because of their place in the Olympic ranking, but whoever it is, it will be all for two, and two for all...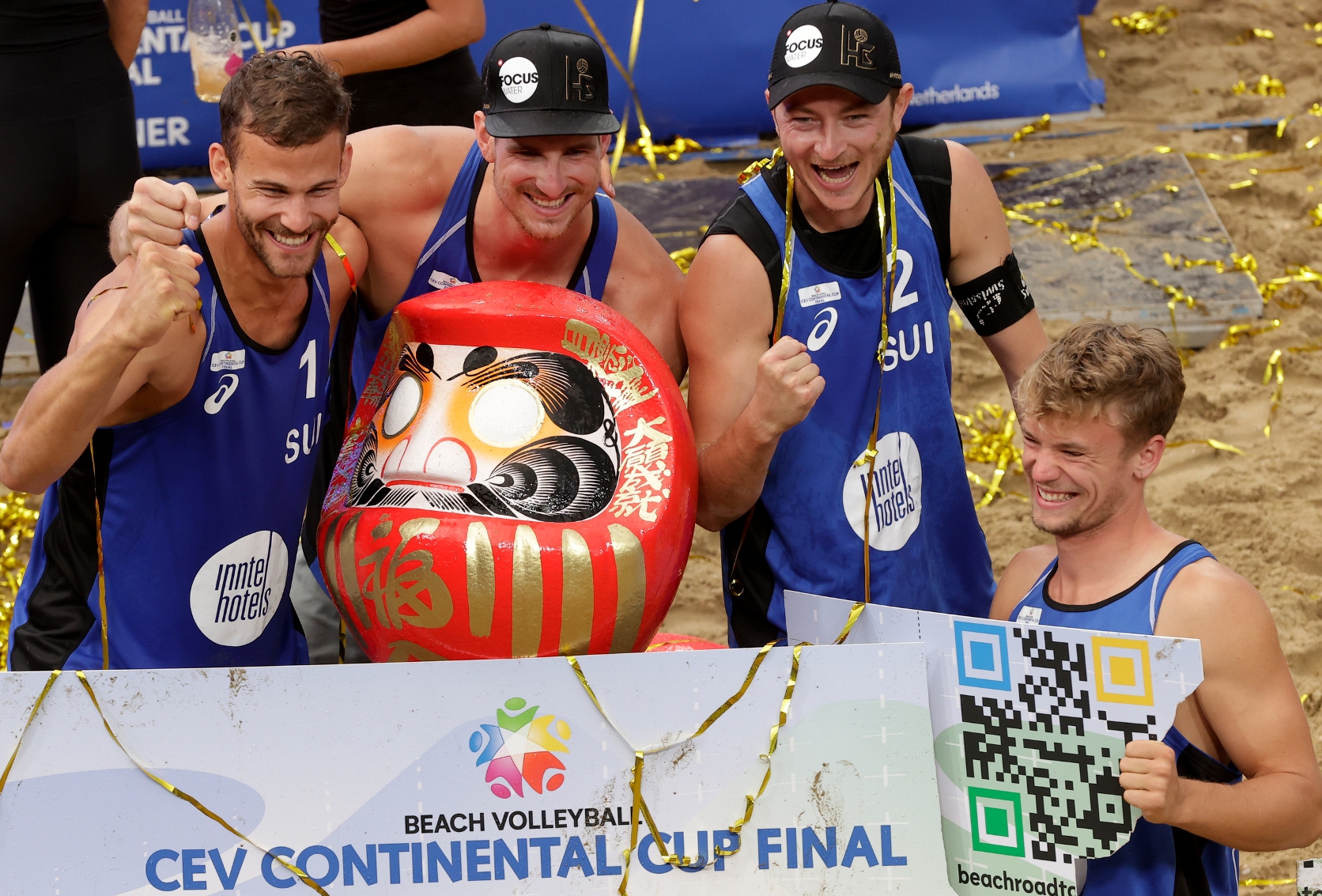 Left to right: Marco Krattiger, Daruma doll, Adrian Heidrich, Mirco Gerson, Florian Breer